Bows and ruffles whether they are placed on handbags, blouses, or shoes are the latest trend that are coming back in style.  They aren't just for schoolgirls anymore.  How do you incorporate the latest trends into your work wardrobe without feeling a tad bit adolescent? 
If you just want to add a touch of a ruffle or bow detail just do it in a simple way.  Ruffle or bow accents on shoes and handbags can give that plain bag or flat just an extra edge. 

Ruffle Front Handbag in Purple- $19.99    DV by Dolce Vita Prissy style in Gray for $100.00.
How about wearing one of these tie blouses to work?  Worried about it looking too Mary Tyler Moore?  The tie new blouses that are a former fashion trend now come in modern fabrics and prints.   Layer a cardigan or blazer on top during the colder winter months that we are still stuck in! We found these two below at shopflick.com.
A ruffle shirt or  blouse can bring a feminine touch to any outfit.   Here are three examples found below that just have a touch of ruffle details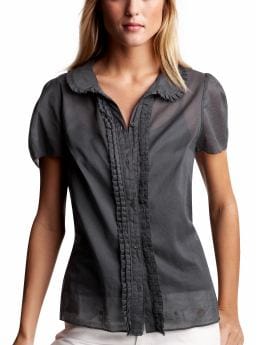 We just fell in love with this Silk tulip-sleeve printed ruffle blouse in Lavender for $69.00 at bananarepublic.com.   You also can't go wrong in this lightweight  Ruffle-placket blouse in a blue slate color for only $44.00 at the Gap.  It just has the right amount of ruffle detail.  The next shirt has a fun print and ruffle detail around the collar and sleeves. This Dotted Ruffle-Trim Blouse is a steal for $24.99.
You can even add the bow trend into your accessories.  Why not tie together one of the blouses above with the Black Tie Affair Belt found at modcloth.com.  It is also a workchic find for $25.99.
 Want to make a statement? We found this bow ring at shop.com.   The Gabriela Artigas Vintage Bow Bracelet found at tobi.com is a perfect accent with any outfit.

You see with a little guidance you too can wear the latest trends  without being nominated for the office fashion victim award!  Stay tuned for more workchic trend alerts!
If you have a pic of you wearing any of the trends above send it to us!  We would love to see it!