Sydne Summer is the author of Think Thru Fashion, a blog dedicated to smart styling for today. She breaks down the trends and shows women simple ways to incorporate them into their existing wardrobes. One of our favorite segments is One Item/Different Lookswhere Sydne takes one item out of her closet and shows 4-6 different ways of wearing it. This is truly a great way to reinvent your look. Since she obviously has amazing style herself we want you to Steal her Style!
Her first outfit is complete with a Theory pencil skirt, Forever 21 v-neck tee, Forever 21 necklace, and Prada pumps
Sydne's take on this simple chic look, "I think every working woman should own a black pencil skirt. I wear mine with silk blouses in a more business setting and with v-neck tees in a more business casual setting. I've worn a white t-shirt and black skirt for years now, but make it look different every time with seasonal necklaces. Right now I'm really into colorful bib necklaces. Last season, I wore this outfit with layered, rocker chic chains. For winter, the skirt looks great with a belted boyfriend cardigan and black tights."
Her second outfit starts with a Vince floral dress and is accessorized with Hyde Collection bow belt, BCBG cardigan, Calvin Klein pumps.  "I love to bring color into the work place. Life would be boring if it was always black, white and gray. I just bought this feminine chiffon dress on sale at Saks and plan to mix it up with different color cardigans. I have a similar one in more jewel tone colors that I wore last fall with black tights, booties, black motorcycle boots and leather jackets. It was fun to mix such a lady-like piece with edgy accessories but this summer I've been sticking to a more garden party look. When I take off the cardigan, this dress works great for a date or an early evening fashion event," she says.
We asked Sydne a few more questions about her style to help you recreate it with ease.
1- Describe your office's dress code:
I work in entertainment. And it's California, the land of casual. So basically anything goes. Some people show up to work in jeans and flip-flops while others look like they stepped off a J. Crew catalog.
Overall, people's style ranges from casual to business casual. The only people in the building dressed in business attire are the lawyers!
2- Working in a fashionable environment, What steps do you take to maintain your professional image?
I always make sure I look put together. Even though I can dress casual, I prefer to dress up a little more than others. I'm not a morning person, so I usually plan outfits for the week on Sundays. I might change my mind in the morning but at least if I press the snooze button too many times, I already have a chic ensemble planned, and I don't have to waste time searching through my closet. "I had nothing to wear" is not a good excuse for showing up late to work.
3- What style advice would you give to a young fashionista starting her first job?
First impression really is everything. But I know when I started out I was so confused on what I should be wearing that I lost sleep over it. The first day of work, I suggest sticking to the conservative side. Of course, you want to be fashionable but you don't always want to be known as that girl in the hot pink dress. My first day I kept it simple in a black top and black skirt, but made a statement with stylish red shoes. If I had to do it again, I'd wear the exact same outfit. Once you're there for a few weeks, you'll start to understand the office dress code. Again, my rule of thumb is a little dressier is always better than a little too casual. And just like in grade school, if everyone else is doing it, it doesn't mean you have to. Since I work in entertainment, mini skirts are perfectly acceptable—as are supershort shorts. But that's not the image I ever wanted to project. So while other girls my age wore what I used to wear in college, I went for a more sophisticated look. It paid off. I got a promotion in four months.
We have to say congratulations to Sydne on her quick promotion! We love to hear those type of stories and hope that it encourages you to take a second look at your professional image.  Also, hopefully you picked up on the pre-planning your outfits tip. This is a great idea for anyone strapped for time. Now, let's Steal her Style! Here are a few more of her tips along with some styles she loves.
Sydne says, "I love tucking ruffled blouses into pencil skirts. When I'm wearing jeans, I tend to go for looser tops and cardigans, or a belted top to show off my waist."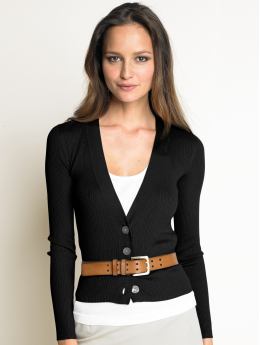 "I think every working woman should own a black pencil skirt. They can be dressed up or down and look good whether you're curvy or a toothpick. But I also love graphic swing skirts. I wear them with t-shirts and high-heels and feel just like Carrie Bradshaw. While I love my distressed denim, I usually stick to darker washes for work. They just look more professional. I tuck tops into my bootcut jeans and wear my skinny jeans with boyfriend cardigans and ballet flats. And I probably wear my skinny black pants every other week. They look great with flats or heels."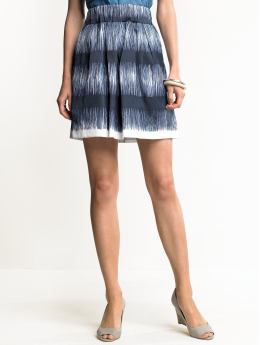 "You can re-wear a simple black dress every week and nobody will notice as long as you switch up the accessories. I recycle mine but styling it with cardigans, brooches, statement necklaces and cool belts. Shift dresses are also ideal if you need to go straight from work to a function or a date. You can never go wrong with a wrap dress. It flatters everyone! If the neckline is too deep, add a button or layer with a cami in a contrasting color."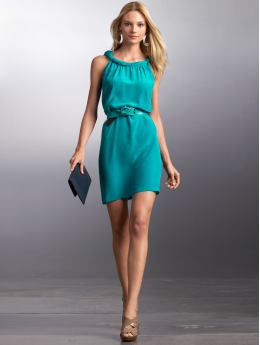 "Statement necklaces and pendants are the easiest way to update a dress or top. And I always use belts over dresses, cardigans, and tops to create womanly curves. It's an appropriate way of being sexy at the office."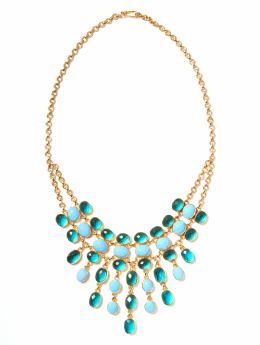 "I'm short, so you'll usually find me in a pair of heels. But I do try to wear ballet flats at least once a week so I don't kill my feet. I go for a nude color to elongate my legs."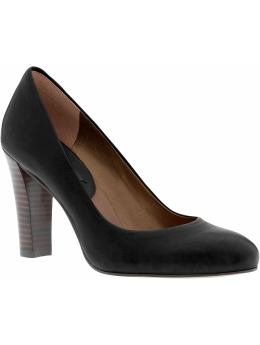 Sydne runs Think Thru Fashion and is a Fashion Editor at MyStyle.com.  If she can keep her look professional, feminine, and chic with all that on her plate- the rest of us have no excuse!