Ok I missed last week's episode but I got totally up to speed tonight.  Tonight's episode was titled -"It's all about who you know."  Isn't that the truth?    The mini assignment for the fashionistas was to search for the perfect gift for Anne to give to Amy Sacco-owner of such exclusive restaurants in New York such as Bungalow 8.   Johanna and Megan win the task with their gift idea of presenting a  cashmere throw.  I personally felt DyShaun and Kate came up with a more creative idea with the vintage Chanel brooch. However I do agree jewelry is a more personal gift and maybe not the best gift unless you really know someone's taste.
Then for their editorial challenge, the fashionistas were to attend a party with Joe and Anne and help them identify the guests.  They needed to memorize a dossier full of 85 names and a few facts about that person. Can anyone say Devil Wears Prada?  Surprisingly Megan's team won the challenge.  They worked extremely well together.  The drama was on Johanna's team and of course the force behind the drama was Kate.  Why is she still on this show by the way?
But the real issue that I know myself and others that have worked in the fashion industry experienced is what Danielle was going through in this week's episode.  The team was told to utilize Elle's sample closet for their party outfits. Danielle being a larger size was only able to pick selected items.  Obviously she is not a size 2.  Of course she was upset about it.  Who wouldn't be?  What she did show was courage to go into the closet and grab a few items.  It conveys a message that everyone deserves a chance in this world no matter what size label is in their pants or shirt.  It doesn't mean you are less talented than the person who is a size 2 standing next to you!
I am kind of disappointed with Anne Slowey's decision below.  Do you think this person should have been voted off?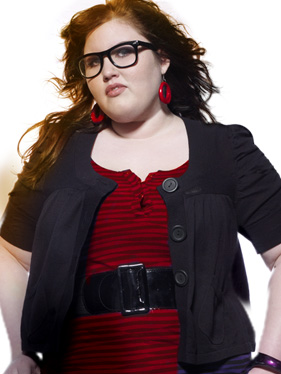 (photo of Danielle courtesy of cwtv.com)
Best of luck to you Danielle!