Yesterday we shared our personal opinions on the Project Runway outfits created for Brooke Shields character on Lipstick Jungle. Today we are going to show you how to recreate these top three looks in business appropriate styles.
Keith and Kenley's winning Design:

As we said, this style was a bit too much of a cocktail dress for work on most days. Also the light chiffon layers do not lend themselves to a cardigan or blazer to help bring this dress up to a true business look. Here is how we would style a similar outfit.
Our version is very simplified, we lose the light chiffon layers and print. What we kept is the shape, proportion, and one piece ensemble. This dress would look chic and professional under a black blazer.

The next look is a personal favorite:


This outfit is created with separates, which we love, because you can mix and match. We started with a printed skirt, only $30, then layered a tank with a wide contoured belt. The second tank option is for the more adventurous who want to keep that mustard color in the outfit. Depending on the tank you chose, add a black or brown blazer for business offices or a cardigan for business casual.

Last but not least our Business Casual outfit:

Koto's jacket is exquisite and has so many great details, it was hard to decide what direction to go. So we picket two. Our first option is a great coral jacket with a tied waist for that nipped in look. Wear this over a simple jersey dress. The one below also comes in a softer stone color. Our second option is inspired by the placket details and larger sleeves. Try this tunic with a chic and refined pencil skirt.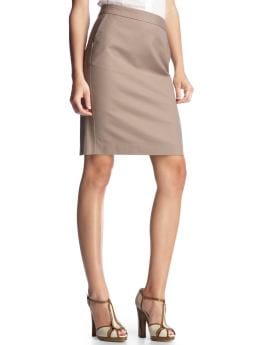 We hope you enjoyed recreating these styles. Week after week we see great ideas walk down the runway. Now you know how to reinterpret your favorite looks into wearable outfits. Remember when it's business make sure you are covered up, a simple black blazer goes a long way. Try out these Workchic solutions to your Project Runway inspiration.